<![if !vml]>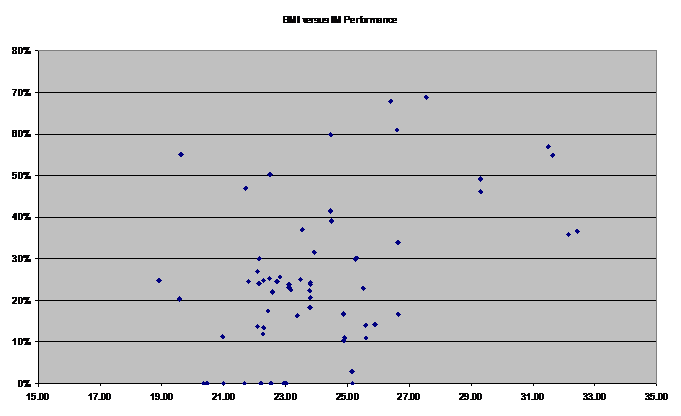 <![endif]>I have plotted all the responses on a scatter graph (on the right for Males) and you can determine for yourself whether there are any conclusions to be drawn. I have also added the BMIs for the top male pros that I could find (the top 20 male finishers at Hawaii in 2006)and I have given them a performance rating of 0%. i.e. They are the standard by which the rest of us are measured.
My comments
Well the distribution of the results was far wider than I anticipated. As the IM performance nears that of the elites, there is a narrowing of the data as you would expect, however there is still a large number of Age Groupers who have put in some impressive performances with BMIs which the British National Medical Association would define as Overweight. The first reaction to this is that the BMI is not applicable to Ironman triathletes, nor athletes in general, because of the larger amount of muscle that they carry compared to the normal population. Muscle is heavier than fat so it would seem logical that this would be the explanation. But this explanation seems to lose credibility when you look at the Top Professional Athletes. From some googling on their, or their sponsor's websites I was able to obtain the data on many of the top athletes. Simon Lessing, Luke Bell, Chris McCormack, Faris Al-Sultan, Cameron Widoff, Ellios Llanos, Normann Stadler, Chris Lieto and Spencer Smith. All these athletes fit into a BMI of between 20.35 and 23.01 with the notable exception of the Mars bar-loving Spencer Smith.
Now if you argue that as you improve your performance as triathlete then your BMI will cease to decrease because of the muscle mass that you develop then how do you explain the lower BMIs of the world's top IM racers.
Of course the harsh reality for me in all this is that if I truly want to improve and look like a pro (well more than just getting atop a Cervelo P3C) then I need to lose another 7Kg or gain 9cm in height without putting on more weight. I'll think about which option to chose over a Nutella sandwich.